Accommodations
The conference will be held on the Boston University (BU) campus. The conference has secured a limited block of single-occupancy dormitory rooms in the Student Village on the Boston University Campus. These dormitories are located on the west of Campus where the conference will be held (see Google map below). More information about these accommodations is available from the website for the 10 Buick Street Residence. At $80 a day (at the heart of Boston) this is by far the cheapest and most convenient option. This block of dorm rooms will be assigned on a first-come-first-served basis. You will be able to book a BU dorm room as you register for the conference.
Other hotel options are also available.
BU Dormitory housing option ($80 per day)
The available BU dorms are located at 10 Buick Street, an air-conditioned, apartment-style residence on the west end of campus in the Student Village complex. Each unit has four single-occupancy bedrooms, two bathrooms, a small kitchen and a living area. Bedrooms are furnished with a twin bed, desk and chair, dresser, and include a closet. Kitchens are equipped with a refrigerator, sink, stove, and microwave oven, but kitchen supplies or utensils are not provided. Living areas are set comfortably with a sofa and chairs along with a dinette set. Please refer to the floor plan below for a typical apartment at 10 Buick Street.
Located just steps outside the front door of 10 Buick Street is Boston University's Fitness and Recreation Center. Memberships are available at special rates for conference guests at the FitRec front desk (1 Day: $12, 1 Week: $35).
The Events & Conferences Front Desk Staff is available to assist guests with checking in to the residence on their designated arrival date beginning at 3:00pm. Guests must check out prior to 11:00am on their designated departure date. However, if you are leaving on Wednesday, June 17th, we have arranged for a late check-out by 4:30pm. The Front Desk Staff is available on a daily basis to assist guests with both campus and general information.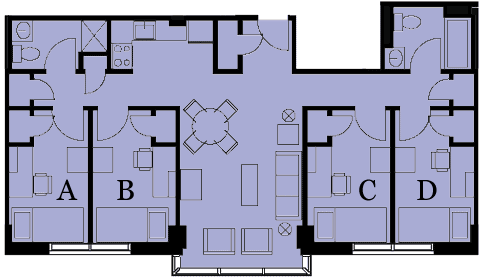 Parking passes can be purchased from the Parking Office at 1019 Commonwealth Ave for the 808 Lot (Lot F). The rates for the 808 Lot are below:
Day Pass: $8 per vehicle
Overnight Pass: $16 per vehicle
Daytime week pass: $32 per vehicle
Overnight week pass: $64
Holiday Inn Boston-Brookline
1200 Beacon Street
Brookline, MA 02446
Phone: 1-617-277-1200
Conference rate: $239 per night, Parking: $32
Please go to the hotel web site and use the group code "IWM" to receive the conference rate.


Hyatt Regency Cambridge
575 Memorial Dr.
Cambridge, MA 02139
Phone: 1-617-492-1234
Conference rate: $269 per night, Parking: $20, Complimentary shuttle to BU campus
Please use this link to receive the conference rate.